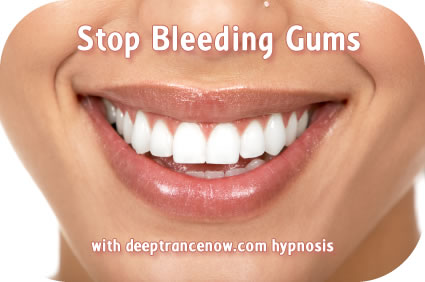 Hypnosis is very effective in speedily stopping bleeding. Stop Bleeding Gums hypnosis will guide you through a technique which may help you to accelerate the healing of your gums. Often times the results are even instantaneous.
You can listen to subliminal, supraliminal, and affirmation CDs throughout the day, and even during the night while you're sleeping.
Sanskrit mantra CDs contain mantras that help to stop bleedings and improve the health of teeth and gums - vibrationally getting rid of germs and bacteria.
Together with these recordings, it is recommended that you brush your teeth with gum and teeth strengthening products and visit your dentist regularly.
Stop Bleeding Gums Deep Trance Now Hypnosis Programs
» Hypnosis Newsletter and Free Downloads
If you want CDs, click on "add to cart" button.
If you want Instant mp3 Downloads,
click on the blue Instant Download link.

Stop Bleeding Gums
Hypnosis
1 CD - $24.95
For INSTANT DOWNLOAD click here
Stop Bleeding Gums
Hypnosis with Embedded Subliminal Track
1 CD - $29.95
Stop Bleeding Gums
Hypnosis with Embedded Supraliminal Track
1 CD - $34.95
Stop Bleeding Gums
Subliminal with Audible Intro Suggestions
1 CD - $14.95
Stop Bleeding Gums
Daytime Silent Subliminal
1 CD - $14.95
Stop Bleeding Gums
Nighttime Silent Subliminal Sleep Programming
1 CD - $14.95
Stop Bleeding Gums
Supraliminal with Audible Intro Suggestions
1 CD - $19.95
Stop Bleeding Gums
Daytime Silent Supraliminal
1 CD - $19.95
Stop Bleeding Gums
Nighttime Silent Supraliminal Sleep Programming
1 CD - $19.95
Stop Bleeding Gums
Empowering Affirmations
1 CD - $17.95
Stop Bleeding Gums
Empowering Affirmations with Embedded Subliminal Track
1 CD - $22.95
Stop Bleeding Gums
Empowering Affirmations with Embedded Subliminal and Supraliminal Tracks
1 CD - $27.95
Stop Bleeding Gums
Supraliminal Plus
1 CD - $24.95
For INSTANT DOWNLOAD click here
Stop Bleeding Gums
Hypnosis + Subliminal
2 CDs - $29.95
Stop Bleeding Gums
Hypnosis + Supraliminal
2 CDs - $34.95
Stop Bleeding Gums
Hypnosis + Supraliminal Plus
2 CDs - $39.95
Stop Bleeding Gums
Hypnosis + Subliminal + Supraliminal Plus
3 CDs - $49.95
Stop Bleeding Gums
Hypnosis + Supraliminal + Supraliminal Plus
3 CDs - $54.95
Stop Bleeding Gums
Hypnosis + Subliminal + Supraliminal + Supraliminal Plus
4 CDs - $64.95
Stop Bleeding Gums
Hypnosis + Empowering Affirmations + Subliminal + Supraliminal + Supraliminal Plus
5 CDs - $79.95