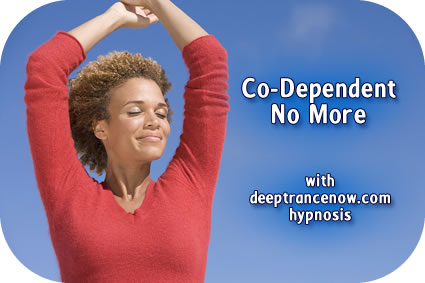 Sometimes people, and more often women, get into a relationship because they dread being alone and then in an attempt to please the other person, drop everything that made them feel good and the person they are with becomes a center of their world. The other person becomes the entire focus of their existence and the source of all of their joys and ultimately sorrows. Their sense of self-esteem and self-worth is left to the mercy of the other person. Sometimes, they begin to believe that they are responsible utterly and completely for the well-being of the other person.
Co-Dependent No More recordings are designed to help you find your center, to re-discover yourself and what truly makes you feel good. Then you can be with another and share of your time, energy and affection in a way that makes you feel good about you, in a way that maintains your sense of integrity and self-esteem and to the extent that makes you feel good. In this way, you never have to feel or act like a martyr or to suffer the pains that were not yours to suffer. In this way you can live your life in peace, without any feelings of guilt or blame and with respect for yourself and for the other person.
Co-Dependent No More Deep Trance Now Hypnosis Programs
» Hypnosis Newsletter and Free Downloads
If you want CDs, click on "add to cart" button.
If you want Instant mp3 Downloads,
click on the blue Instant Download link.