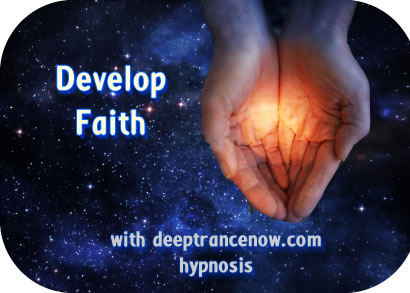 Faith opens the door to new possibilities in your life. Faith opens the door to limitless possibilities because whatever you can conceive, believing you receive it now, believing you have it now, you can have it.
This faith that makes anything possible, the faith that moves mountains and transforms your reality is not just a nice idea that you have accepted and which sounds plausible to your intellect, but a whole inner experience, a living and breathing inner reality.
Faith is different than a mere hope. When you hope that something will happen, you have a feeling of uncertainty, but when you have faith, you are experiencing a sense of confidence, assurance.
The world of new possibilities opens to you when you choose to live by faith rather than by sight. When you live by sight, you are accepting the reality you can register with your physical senses, that which you can see, touch, smell with your outer being. When you live by faith, you practice relying on the creative power of your inner reality.
Faith is like a muscle which the more you use, practice and exercise, the stronger it becomes.
Develop Faith hypnosis recording guides you through a systematic process of developing and strengthening your faith. The affirmations, subliminal, supraliminal and supraliminal plus recordings contain positive suggestions designed to strengthen your faith. For best results, begin by listening to the hypnosis recording.
Develop Faith Deep Trance Now Hypnosis Programs
» Click here to learn about different types of CDs
» Subscribe to Deep Trance Now Hypnosis Newsletter and listen to Free Downloads
» Click here for information about Mail Order, Shipping or ordering MP3 Downloads
If you want CDs, click on "add to cart" button.
If you want Instant mp3 Downloads,
click on the blue Instant Download link.