» Click here for Lucid Dreaming
Prophetic Dreaming enables you to get inspiration, guidance, ideas, answers to questions and solutions to problems through your dreams.
Famous People Who Got Ideas Through Dreams
Throughout history artists, inventors, writers and scientists got ideas and solved problems through dreams, sometimes spontaneously, sometimes by programming their minds before falling asleep.
Stephanie Meyer and the Twilight Saga born out of a dream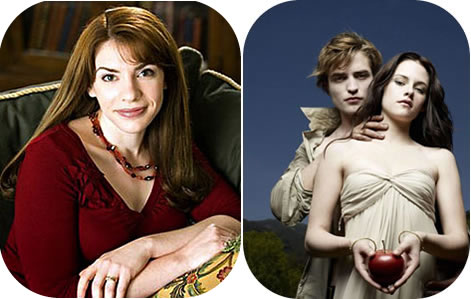 Stephanie Meyer, the author of the bestselling books Twilight Saga (Twilight, New Moon, Eclipse, and Breaking Dawn), got the idea for the story from a dream - a supernatural romance between Bella Swan (played by Kristen Stewart) and Edward Cullen (played by Robert Pattinson). The Twilight has been made into a movie with millions of Twilight fans, even Twilight addicts worldwide. Stephanie Meyer fashioned the main character, Edward Cullen, upon what for many women may be an archetype of an ideal man - immortal, beautiful, having superior strength, speed, and supernatural abilities, loving, caring, protective, and able to fulfill every dream a woman may have - even make her immortal, forever young and beautiful, forever loved and cared for.
Kekulé discovers Benzene molecule while dreaming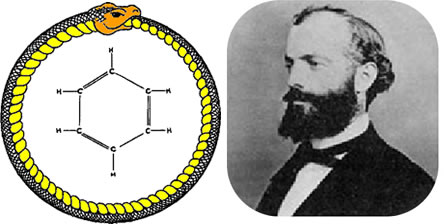 Friedrich August Kekulé von Stradonitz discovered the Benzene molecule while dreaming:
"...I was sitting writing on my textbook, but the work did not progress; my thoughts were elsewhere. I turned my chair to the fire and dozed. Again the atoms were gamboling before my eyes. This time the smaller groups kept modestly in the background. My mental eye, rendered more acute by the repeated visions of the kind, could now distinguish larger structures of manifold conformation; long rows sometimes more closely fitted together all twining and twisting in snake-like motion. But look! What was that? One of the snakes had seized hold of its own tail, and the form whirled mockingly before my eyes. As if by a flash of lightning I awoke; and this time also I spent the rest of the night in working out the consequences of the hypothesis."
Otto Loewi - Dream that led to a Nobel Prize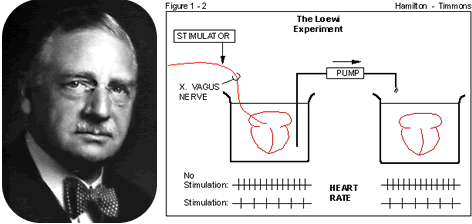 Otto Loewi, a German born physiologist, won the Nobel Prize for medicine in 1936 for his work on the chemical transmission of nerve impulses. In 1903, Loewi had the idea that there might be a chemical transmission of the nervous impulse rather than an electrical one, which was the common held belief, but he was at a loss on how to prove it. He let the idea slip to the back of his mind until 17 years later he had the following dream. According to Loewi:
"The night before Easter Sunday of that year I awoke, turned on the light, and jotted down a few notes on a tiny slip of paper. Then I fell asleep again. It occurred to me at 6 o'clock in the morning that during the night I had written down something most important, but I was unable to decipher the scrawl. The next night, at 3 o'clock, the idea returned. It was the design of an experiment to determine whether or not the hypothesis of chemical transmission that I had uttered 17 years ago was correct. I got up immediately, went to the laboratory, and performed a single experiment on a frog's heart according to the nocturnal design."
It took Loewi a decade to carry out a decisive series of tests to satisfy his critics, but ultimately the result of his initial dream induced experiment became the foundation for the theory of chemical transmission of the nervous impulse and led to a Nobel Prize!
Dr. Loewi noted: "Most so called 'intuitive' discoveries are such associations made in the subconscious."
Madame C. J. Walker - From Dream to Millionaire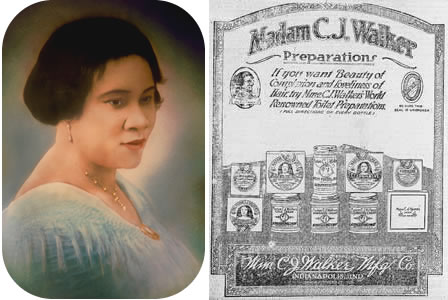 Madame C.J. Walker is cited by the Guinness Book of Records as the first female American self-made millionaire. She was also the first member of her family born free.
Madame Walker founded and built a highly successful African-American cosmetic company that made her a millionaire many times over. Walker was suffering from a scalp infection that caused her to loose most of her hair in the 1890's. She began experimenting with patented medicines and hair-care products.
Then, she had a dream that solved her problems:
"He answered my prayer, for one night I had a dream, and in that dream a big, black man appeared to me and told me what to mix up in my hair. Some of the remedy was grown in Africa, but I sent for it, mixed it, put it on my scalp, and in a few weeks my hair was coming in faster than it had ever fallen out. I tried it on my friends; it helped them. I made up my mind to begin to sell it."
Walker was an entrepreneur, philanthropist and social activist. She best sums up her rise from a childhood in the poor south to being the head of an international, multi-million dollar corporation in the following quote:
"I am a woman who came from the cotton fields of the South. From there I was promoted to the washtub. From there I was promoted to the cook kitchen. And from there I promoted myself into the business of manufacturing hair goods and preparations. I have built my own factory on my own ground."
Elias Howe Solves the Sewing Machine Needle Problem
Through a Dream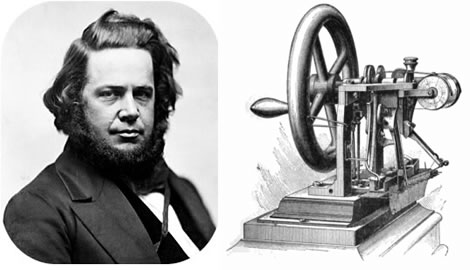 Elias Howe invented the sewing machine in 1845. He had the idea of a machine with a needle which would go through a piece of cloth but he couldn't figure out exactly how it would work. He first tried using a needle that was pointed at both ends, with an eye in the middle, but it was a failure. Then one night he dreamt he was taken prisoner by a group of natives. They were dancing around him with spears. As he saw them move around him, he noticed that their spears all had holes near their tips.
When he woke up he realized that the dream had brought the solution to his problem. By locating a hole at the tip of the needle, the thread could be caught after it went through cloth thus making his machine operable.
He changed his design to incorporate the dream idea and found it worked!
Jack Nicklaus Discover a New Golf Swing in A Dream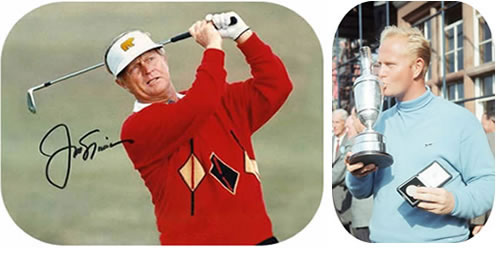 World-famous golfer, Jack Nicklaus, discovered a new way to hold his golf club in a dream, which he credits to improving his golf game. In 1964, Nicklaus was having a bad slump and routinely shooting in the high seventies. After suddenly regaining top scores he revealed the secret of his success:
"Wednesday night I had a dream and it was about my golf swing. I was hitting them pretty good in the dream and all at once I realized I wasn't holding the club the way I've actually been holding it lately. I've been having trouble collapsing my right arm taking the club head away from the ball, but I was doing it perfectly in my sleep. So when I came to the course yesterday morning I tried it the way I did in my dream and it worked. I shot a sixty-eight yesterday and a sixty-five today."
Srinivasa Aiyangar Ramanujan Gets Inspiration and Insight Into Mathematical Problems through Dreams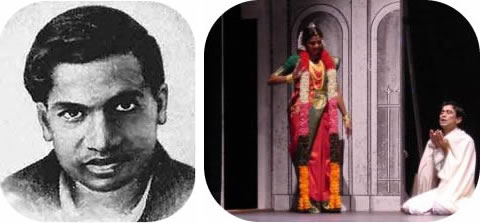 Srinivasa Aiyangar Ramanujan was one of India's greatest mathematical geniuses. He made substantial contributions to the analytical theory of numbers and worked on elliptic functions, continued fractions, and infinite series. In 1914, he was invited in to Cambridge University by the English mathematician GH Hardy who recognized his unconventional genius. He worked there for five years producing startling results and proved over 3,000 theorems in his lifetime.
According to Ramanujan, inspiration and insight for his work many times came to him in his dreams. A Hindu goddess, Sri Namagiri Lakshmi of Namakkal, Srinivasa Ramanujan's family deity, would appear and present mathematical formulae which he would verify after waking. Such dreams often repeated themselves and the connection with the dream world as a source for his work was constant throughout his life.
Ramanujan describes one of his dreams of mathematical discovery:
"While asleep I had an unusual experience. There was a red screen formed by flowing blood as it were. I was observing it. Suddenly a hand began to write on the screen. I became all attention. That hand wrote a number of results in elliptic integrals. They stuck to my mind. As soon as I woke up, I committed them to writing."
Get Answers through Dreams
Prophetic Dreaming CDs are designed to help you get ideas, inspiration, answers and solutions to your problems - through dreams.
The art of Prophetic Dreaming has been used historically by Egyptians, Greeks and Hebrews in their temples. The process involved elaborate rituals dedicated to different Gods. While some esoteric schools still engage in different types of rituals, prophetic dreaming, as "dream incubation" has been generally reduced to asking a question (from your subconscious mind and/or any form of Higher Power that appeals to you) to which you desire an answer, before you go to sleep.
More often than not, the messages we get through the dreams present themselves wrapped in a symbolic imagery the interpretation of which may represent an additional challenge. Prophetic Dreaming CDs are designed to help you get the information you desire in a way that you can clearly understand.
The best time to listen to these recordings is just before falling asleep. Prophetic Dreaming hypnosis CD guides you through the process of relaxing your mind and body, falling asleep, programming your mind with the question to which you'd like an answer, and offers suggestions for remembering and understanding the dream.
Prophetic Dreaming subliminal, supraliminal and supraliminal plus CDs, contain direct suggestions to help you get the answer to your question, to remember the dream and to understand the dream. These recordings do not guide you through the process of relaxing, falling asleep and formulating your question, and for that reason, I suggest you work with hypnosis recording, as well as subliminal, and/or supraliminal or supraliminal plus recordings.
Prophetic Dreaming brainwave entrainment recording does not contain any verbal suggestions. It uses brainwave entrainment, through binaural beats and other modern technologies, that entrains your mind to relax, helping you to fall asleep and then to stimulate your mind to bring about vivid dreams, while you're sleeping.
Prophetic Dreaming - Dream Incubation
Deep Trance Now Hypnosis CDs and mp3 downloads
» Click here to learn more about Different Types of Recordings
» Subscribe to Deep Trance Now Hypnosis Newsletter and listen to Free Downloads
» Click here for information about Mail Order, Shipping or ordering MP3 Downloads
Prophetic Dreaming - Dream Incubation - Hypnosis Demo
If you want CDs, click on "add to cart" button.
If you want Instant mp3 Downloads,
click on the blue Instant Download link.

Prophetic - Precognitive - Dreaming
Hypnosis
1 CD - $24.95
For INSTANT DOWNLOAD click here
Prophetic - Precognitive - Dreaming
Hypnosis with Embedded Subliminal Track
1 CD - $29.95
Prophetic - Precognitive - Dreaming
Hypnosis with Embedded Supraliminal Track
1 CD - $34.95
For INSTANT DOWNLOAD click here
Prophetic - Precognitive - Dreaming
Subliminal with Audible Intro Suggestions
1 CD - $14.95
For INSTANT DOWNLOAD click here
Prophetic - Precognitive - Dreaming
Daytime Silent Subliminal
1 CD - $14.95
Prophetic - Precognitive - Dreaming
Nighttime Silent Subliminal Sleep Programming
1 CD - $14.95
For INSTANT DOWNLOAD click here
Prophetic - Precognitive - Dreaming
Supraliminal with Audible Intro Suggestions
1 CD - $19.95
For INSTANT DOWNLOAD click here
Prophetic - Precognitive - Dreaming
Daytime Silent Supraliminal
1 CD - $19.95
Prophetic - Precognitive - Dreaming
Nighttime Silent Supraliminal Sleep Programming
1 CD - $19.95
For INSTANT DOWNLOAD click here
Prophetic - Precognitive - Dreaming
Empowering Affirmations
1 CD - $17.95
Prophetic - Precognitive - Dreaming
Empowering Affirmations with Embedded Subliminal Track
1 CD - $22.95
Prophetic - Precognitive - Dreaming
Empowering Affirmations with Embedded Subliminal and Supraliminal Tracks
1 CD - $27.95
For INSTANT DOWNLOAD click here
Prophetic - Precognitive - Dreaming
Supraliminal Plus
1 CD - $24.95
For INSTANT DOWNLOAD click here
Prophetic - Precognitive - Dreaming
Brainwave Entrainment
1 CD - $24.95
Prophetic - Precognitive - Dreaming
Sanskrit Mantras
1 CD - $24.95
For INSTANT DOWNLOAD click here
Prophetic - Precognitive - Dreaming
Hypnosis + Subliminal
2 CDs - $29.95
For INSTANT DOWNLOAD click here
Prophetic - Precognitive - Dreaming
Hypnosis + Supraliminal
2 CDs - $34.95
For INSTANT DOWNLOAD click here
Prophetic - Precognitive - Dreaming
Hypnosis + Supraliminal Plus
2 CDs - $39.95
For INSTANT DOWNLOAD click here
Prophetic - Precognitive - Dreaming
Hypnosis + Subliminal + Supraliminal Plus
3 CDs - $49.95
For INSTANT DOWNLOAD click here
Prophetic - Precognitive - Dreaming
Hypnosis + Supraliminal + Supraliminal Plus
3 CDs - $54.95
For INSTANT DOWNLOAD click here
Prophetic - Precognitive - Dreaming
Hypnosis + Subliminal + Supraliminal + Supraliminal Plus
4 CDs - $64.95
Prophetic - Precognitive - Dreaming
Hypnosis + Empowering Affirmations + Subliminal + Supraliminal + Supraliminal Plus
5 CDs - $79.95
Prophetic - Precognitive - Dreaming
Hypnosis + Empowering Affirmations + Subliminal + Supraliminal + Supraliminal Plus + Brainwave Entrainment
6 CDs - $89.95
Prophetic - Precognitive - Dreaming
Hypnosis + Empowering Affirmations + Subliminal + Supraliminal + Supraliminal Plus + Sanskrit Mantras
6 CDs - $89.95
Prophetic - Precognitive - Dreaming
Hypnosis + Empowering Affirmations + Subliminal + Supraliminal + Supraliminal Plus + Sanskrit Mantras + Brainwave Entrainment
7 CDs - $108.00