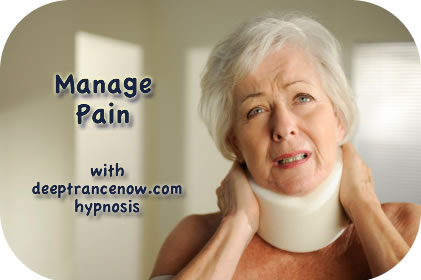 Hypnosis has been extensively and successfully used in pain management, because pain is a subjective experience. The International Association for the Study of Pain offers this definition of pain "an unpleasant sensory or emotional experience associated with the actual or potential tissue damage, as described in terms of such damage." This definition implies that if we are no aware of pain, we cannot suffer the effects of pain.
I imagine, most of us have had an experience where the excruciating pain we were suffering was absent while we engaged in some interesting conversation, and completely forgetting about the pain, we didn't experience any - at least consciously. Some hypnosis studies on pain have discovered that a part of our unconscious, though, is still aware of the pain and some authors have labeled this part "a hidden observer" .
There are different kinds of pain, and for the purpose of pain management with hypnosis I would just like to distinguish between pain that may be construed as useful and the pain that is no longer useful. By useful pain, I am referring to the pain that alerts you to a possible danger where the best course of action is removing yourself from the pain stimulus. For example, if you have a pebble in your shoe, the common sense would be to remove the pebble. If you have a toothache, the best course of action is to visit a dentist. However, if you've been to the dentist and you had a treatment (e.g. root canal) that has resulted in pain and there's nothing else dentist can do, the pain may be construed as no longer useful - and you can proceed to getting rid of it. Also, if you have any other kind of terminal or chronic pain or illness, you may proceed to eliminate pain with hypnosis.
When working with pain which is part of some illness, I also highly recommend that you also consider healing the condition. Among many other options, you may add Accelerated Healing CD to your treatment.
If the pain you are experiencing is a result of your occupation - the best course of action may also include changing your occupation or learning how to perform it in a safe way. For example, if you are lifting heavy objects, you may want to check out if there's a better way to do that, and you may also consider doing chi-kung type of exercises that help you to build greater inner strength. Another recommended recording here would be Enhanced Sports Performance which is designed to help you, among other things, generate greater physical strength.
Eliminate Pain Deep Trance Now CDs are designed to help you reduce or eliminate pain that is no longer useful for you. You can us them to eliminate acute or chronic pain which is a result of illness or strenuous physical activity. I recommend you also use common sense and take the necessary action such as removing the pain stimulus and adjust your life-style if appropriate.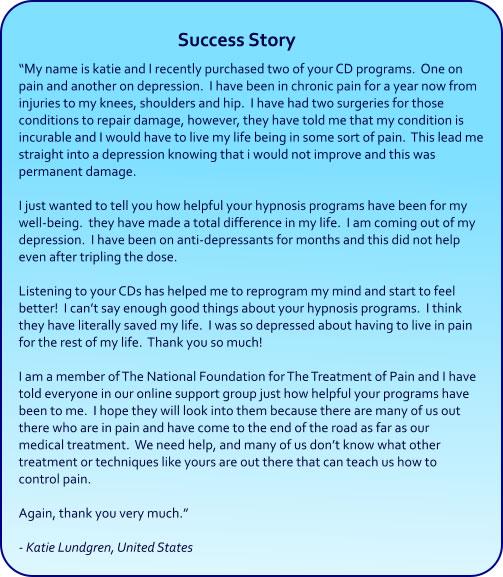 Pain Relief Deep Trance Now Hypnosis Programs
» Click here to learn more about Different Types of Recordings
» Subscribe to Deep Trance Now Hypnosis Newsletter and listen to Free Downloads
» Click here for information about Mail Order, Shipping or ordering MP3 Downloads
If you want CDs, click on "add to cart" button.
If you want Instant mp3 Downloads,
click on the blue Instant Download link.

Pain Relief
Hypnosis
1 CD - $24.95
For INSTANT DOWNLOAD click here
Pain Relief
Hypnosis with Embedded Subliminal Track
1 CD - $29.95
Pain Relief
Hypnosis with Embedded Supraliminal Track
1 CD - $34.95
For INSTANT DOWNLOAD click here
Pain Relief
Subliminal with Audible Intro Suggestions
1 CD - $14.95
For INSTANT DOWNLOAD click here
Pain Relief
Daytime Silent Subliminal
1 CD - $14.95
Pain Relief
Nighttime Silent Subliminal Sleep Programming
1 CD - $14.95
For INSTANT DOWNLOAD click here
Pain Relief
Supraliminal with Audible Intro Suggestions
1 CD - $19.95
For INSTANT DOWNLOAD click here
Pain Relief
Daytime Silent Supraliminal
1 CD - $19.95
Pain Relief
Nighttime Silent Supraliminal Sleep Programming
1 CD - $19.95
For INSTANT DOWNLOAD click here
Pain Relief
Empowering Affirmations
1 CD - $17.95
Pain Relief
Empowering Affirmations with Subliminal Track
1 CD - $22.95
Pain Relief
Empowering Affirmations with Subliminal and Supraliminal Tracks
1 CD - $27.95
For INSTANT DOWNLOAD click here
Pain Relief
Supraliminal Plus
1 CD - $24.95
For INSTANT DOWNLOAD click here
Pain Relief
Brainwave Entrainment
1 CD - $24.95
Pain Relief
Sanskrit Mantras
1 CD - $24.95
Pain Relief
Hypnosis + Subliminal
2 CDs - $29.95
For INSTANT DOWNLOAD click here
Pain Relief
Hypnosis + Supraliminal
2 CDs - $34.95
For INSTANT DOWNLOAD click here
Pain Relief
Hypnosis + Supraliminal Plus
2 CDs - $39.95
For INSTANT DOWNLOAD click here
Pain Relief
Hypnosis + Subliminal + Supraliminal Plus
3 CDs - $49.95
For INSTANT DOWNLOAD click here
Pain Relief
Hypnosis + Supraliminal + Supraliminal Plus
3 CDs - $54.95
For INSTANT DOWNLOAD click here
Pain Relief
Hypnosis + Subliminal + Supraliminal + Supraliminal Plus
4 CDs - $64.95
Pain Relief
Hypnosis + Empowering Affirmations + Subliminal + Supraliminal + Supraliminal Plus
5 CDs - $79.95
Pain Relief
Hypnosis + Empowering Affirmations + Subliminal + Supraliminal + Supraliminal Plus + Brainwave Entrainment
6 CDs - $89.95
Pain Relief
Hypnosis + Empowering Affirmations + Subliminal + Supraliminal + Supraliminal Plus + Sanskrit Mantras
6 CDs - $89.95
Pain Relief
Hypnosis + Empowering Affirmations + Subliminal + Supraliminal + Supraliminal Plus + Sanskrit Mantras + Brainwave Entrainment
7 CDs - $108.00