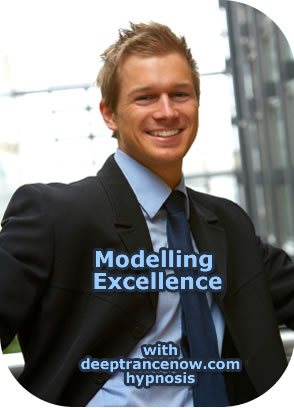 Modeling Excellence Hypnosis CD guides you through the process of getting into the mind and heart of someone who has accomplished goals you are striving to accomplish - your role model, so that you can accelerate your progress and skip hit and miss, trial and error as much as possible.
You can model someone outwardly by observing the way the person's stands, breathes, moves, and you can model someone's inner states by learning more about the inner strategy your role model uses to accomplish desired outcomes, as well as about the worldview and thinking processes. Modeling Excellence Hypnosis CD guides you through mentally stepping into the shoes of your role model and tuning into the person's energy field, thoughs and emotions, for the purpose of learning what you need to know to successfully accomplish your desired outcome.
Subliminal, supraliminal and supraliminal plus recordings contain direct suggestions for Modeling Excellence, however they do not contain guided imagery and the process of subjectively experiencing yourself in the shoes of your role model, so for best results I recommend that you use these recordings in conjunction with hypnosis recording..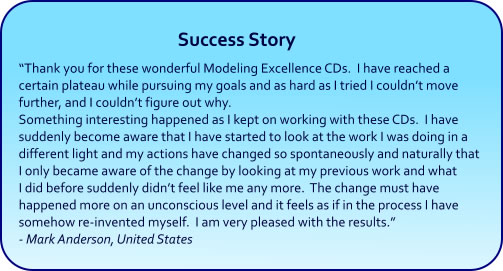 Modeling Excellence Deep Trance Now Hypnosis Programs
» Hypnosis Newsletter and Free Downloads
If you want CDs, click on "add to cart" button.
If you want Instant mp3 Downloads,
click on the blue Instant Download link.

Modeling Excellence
Hypnosis
1 CD - $24.95
For INSTANT DOWNLOAD click here
Modeling Excellence
Hypnosis with Embedded Subliminal Track
1 CD - $29.95
Modeling Excellence
Hypnosis with Embedded Supraliminal Track
1 CD - $34.95
Modeling Excellence
Subliminal with Audible Intro Suggestions
1 CD - $14.95
Modeling Excellence
Daytime Silent Subliminal
1 CD - $14.95
Modeling Excellence
Nighttime Silent Subliminal Sleep Programming
1 CD - $14.95
Modeling Excellence
Supraliminal with Audible Intro Suggestions
1 CD - $19.95
Modeling Excellence
Daytime Silent Supraliminal
1 CD - $19.95
Modeling Excellence
Nighttime Silent Supraliminal Sleep Programming
1 CD - $19.95
Modeling Excellence
Empowering Affirmations
1 CD - $17.95
Modeling Excellence
Empowering Affirmations with Embedded Subliminal Track
1 CD - $22.95
Modeling Excellence
Empowering Affirmations with Embedded Subliminal and Supraliminal Tracks
1 CD - $27.95
Modeling Excellence
Supraliminal Plus
1 CD - $24.95
For INSTANT DOWNLOAD click here
Modeling Excellence
Hypnosis + Subliminal
2 CDs - $29.95
Modeling Excellence
Hypnosis + Supraliminal
2 CDs - $34.95
Modeling Excellence
Hypnosis + Supraliminal Plus
2 CDs - $39.95
Modeling Excellence
Hypnosis + Subliminal + Supraliminal Plus
3 CDs - $49.95
Modeling Excellence
Hypnosis + Supraliminal + Supraliminal Plus
3 CDs - $54.95
Modeling Excellence
Hypnosis + Subliminal + Supraliminal + Supraliminal Plus
4 CDs - $64.95
Modeling Excellence
Hypnosis + Empowering Affirmations + Subliminal + Supraliminal + Supraliminal Plus
5 CDs - $79.95