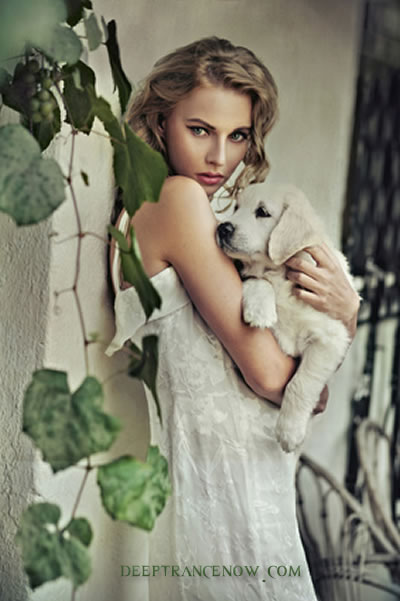 Fear of dogs may be caused by some genuinely unpleasant experience with a dog, perhaps a child was bitten by a dog, or a dog's bark was too loud and it frightened him, or a dog was too big and appeared menacing, or perhaps it startled the child when it jumped on the child. It may be that someone else was telling a child stories that taught the child to fear dogs. Sometimes the child may be picking up on the fear and nervousness of adults in the presence of a dog. The causes may be varied and not so obvious.
And while one child may recover from a serious dog bite and still love dogs and feel fearless in the presence of any kind of dog, another child may feel terrified even of a small, cute, tail-wagging puppy. Dogs are often loud, fast moving and unpredictable. No wonder some children are afraid of them.
Sometimes people develop fear of dogs, or at least of particular breeds, by watching a news report on television, where a seemingly friendly dog bit half of the face of its owner apparently out of blue, or where neighbor's aggressive dog bit or killed a child or an adult.
In adults, fear of dogs can interfere with their social life. Fear of dogs can cause a person to avoid neighbors and friends with dogs, and social gatherings where people can brings dogs.
Hypnosis and NLP can help to re-wire your neurology, to replace images and feelings that are disconcerting, with those that make you feel calm, relaxed, and safe. Hypnosis, subliminal, supraliminal and supraliminal plus recordings can also help you to program your subconscious mind to alert you if you are in any genuine danger, so that you can relax and enjoy your life at other times. You can also program your mind to direct your actions in a way that will ensure that you are safe wherever you may go.
Brainwave entrainment can help you to condition your mind and your neurology to relax and be calm when you need to. Because most animals can sense when you feel fear, remaining calm can help you to make dogs more comfortable around you.
Sanskrit mantras can help you to feel safe and protected in all situations.
Overcome Fear of Dogs
Deep Trance Now Hypnosis CDs and mp3 downlaods
» Hypnosis Newsletter and Free Downloads
If you want CDs, click on "add to cart" button.
If you want Instant mp3 Downloads,
click on the blue Instant Download link.

Overcome Fear of Dogs
Hypnosis
1 CD - $24.95
Overcome Fear of Dogs
Hypnosis with Embedded Subliminal Track
1 CD - $29.95
Overcome Fear of Dogs
Hypnosis with Embedded Supraliminal Track
1 CD - $34.95
Overcome Fear of Dogs
Subliminal with Audible Intro Suggestions
1 CD - $14.95
Overcome Fear of Dogs
Daytime Silent Subliminal
1 CD - $14.95
Overcome Fear of Dogs
Nighttime Silent Subliminal Sleep Programming
1 CD - $14.95
Overcome Fear of Dogs
Supraliminal with Audible Intro Suggestions
1 CD - $19.95
Overcome Fear of Dogs
Daytime Silent Supraliminal
1 CD - $19.95
Overcome Fear of Dogs
Nighttime Silent Supraliminal Sleep Programming
1 CD - $19.95
Overcome Fear of Dogs
Empowering Affirmations
1 CD - $17.95
Overcome Fear of Dogs
Empowering Affirmations with Embedded Subliminal Track
1 CD - $22.95
Overcome Fear of Dogs
Empowering Affirmations with Embedded Subliminal and Supraliminal Tracks
1 CD - $27.95
Overcome Fear of Dogs
Supraliminal Plus
1 CD - $24.95
Overcome Fear of Dogs
Hypnosis + Subliminal
2 CDs - $29.95
Overcome Fear of Dogs
Hypnosis + Supraliminal
2 CDs - $34.95
Overcome Fear of Dogs
Hypnosis + Supraliminal Plus
2 CDs - $39.95
Overcome Fear of Dogs
Hypnosis + Subliminal + Supraliminal Plus
3 CDs - $49.95
Overcome Fear of Dogs
Hypnosis + Supraliminal + Supraliminal Plus
3 CDs - $54.95
Overcome Fear of Dogs
Hypnosis + Subliminal + Supraliminal + Supraliminal Plus
4 CDs - $64.95
Overcome Fear of Dogs
Hypnosis + Empowering Affirmations + Subliminal + Supraliminal + Supraliminal Plus
5 CDs - $79.95