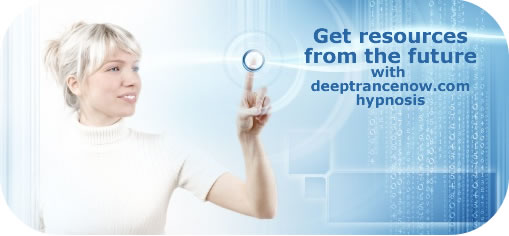 'Time and space are modes by which we think
and not conditions in which we live"
- Albert Einstein
During a hypnosis session, when hypnotherapist desires to help the client, but is not sure what would work the best, he may take the person along an imaginary time-line to a point in the future when the problem has been resolved, and then ask the person's subconscious something along the lines 'Tell me what exactly did I do to help you to solve this problem". After the person's subconscious described the solution to the hypnotherapist, he then feeds back this solution to the person's subconscious mind.
From the perspective of spirituality and quantum physics, the moment the problem arises it has already been solved, yet this solution may not be so obvious to us, nor immediately available to our conscious understanding. To this end, A Course in Miracles has, among other affirmations in the textbook for students "Let me recognize that all my problems have been solved" - because, as Einstein pointed out "Time and space are modes by which we think and not conditions in which we live". We are free to explore any space / time continuum we may desire if we open our minds to that possibility.
With Get Resources from the Future Hypnosis CD you will move along the time-line and step into the mind and the body of your Future Self - the one who has already accomplished what you desire to accomplish. You will discover what you need to know to get there in the fastest and most appropriate way for you, and you will install the resources you need to accomplish these goals in your present self, making it easier to accomplish your goals faster. It is possible that as you become aware of the solution to the challenge you are facing, and as you incorporate it in your habitual process of thinking and living, the challenge you were facing will dissolve of its own accord.
Subliminal, supraliminal and supraliminal plus CDs contain direct suggestions designed to open your mind to new possibilities and to solutions to the challenges you are facing. Even though you may experience great results working with these CDs alone, for best results I recommend that you also work with Get Resources form the Future hypnosis CD, because that one will guide you through the technique and through the actual experience of your Future Self and of the solution to the challenge you desire to overcome.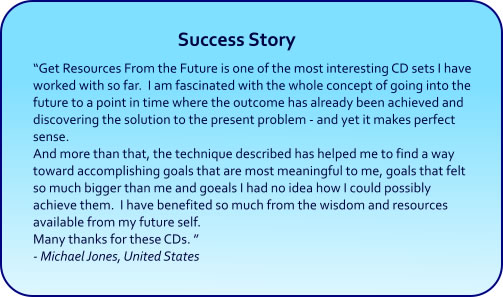 Get Resources From the Future Deep Trance Now Hypnosis Programs
» Hypnosis Newsletter and Free Downloads
If you want CDs, click on "add to cart" button.
If you want Instant Downloads,
click on the blue Instant Download link.

Get Resources From the Future
Hypnosis
1 CD - $24.95
For INSTANT DOWNLOAD click here
Get Resources From the Future
Hypnosis with Embedded Subliminal Track
1 CD - $29.95
Get Resources From the Future
Hypnosis with Embedded Supraliminal Track
1 CD - $34.95
Get Resources From the Future
Subliminal with Audible Intro Suggestions
1 CD - $14.95
For INSTANT DOWNLOAD click here
Get Resources From the Future
Daytime Silent Subliminal
1 CD - $14.95
For INSTANT DOWNLOAD click here
Get Resources From the Future
Nighttime Silent Subliminal Sleep Programming
1 CD - $14.95
For INSTANT DOWNLOAD click here
Get Resources From the Future
Supraliminal with Audible Intro Suggestions
1 CD - $19.95
For INSTANT DOWNLOAD click here
Get Resources From the Future
Daytime Silent Supraliminal
1 CD - $19.95
For INSTANT DOWNLOAD click here
Get Resources From the Future
Nighttime Silent Supraliminal Sleep Programming
1 CD - $19.95
For INSTANT DOWNLOAD click here
Get Resources From the Future
Empowering Affirmations
1 CD - $17.95
For INSTANT DOWNLOAD click here
Get Resources From the Future
Empowering Affirmations with Embedded Subliminal Track
1 CD - $22.95
Get Resources From the Future
Empowering Affirmations with Embedded Subliminal and Supraliminal Tracks
1 CD - $27.95
For INSTANT DOWNLOAD click here
Get Resources From the Future
Supraliminal Plus
1 CD - $24.95
For INSTANT DOWNLOAD click here
Get Resources From the Future
Hypnosis + Subliminal
2 CDs - $29.95
Get Resources From the Future
Hypnosis + Supraliminal
2 CDs - $34.95
Get Resources From the Future
Hypnosis + Supraliminal Plus
2 CDs - $39.95
Get Resources From the Future
Hypnosis + Subliminal + Supraliminal Plus
3 CDs - $49.95
Get Resources From the Future
Hypnosis + Supraliminal + Supraliminal Plus
3 CDs - $54.95
Get Resources From the Future
Hypnosis + Subliminal + Supraliminal + Supraliminal Plus
4 CDs - $64.95
Get Resources From the Future
Hypnosis + Empowering Affirmations + Subliminal + Supraliminal + Supraliminal Plus
5 CDs - $79.95