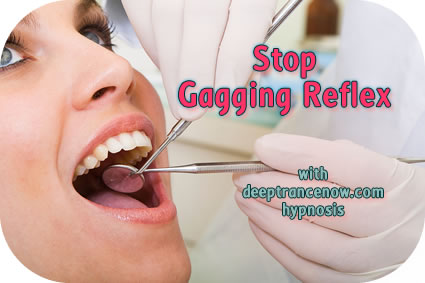 The gagging or pharyngeal reflex is a reflex contraction of the back of the throat, elicited by touching the soft palate. It is a body's natural defense against choking.
If you have a sensitive gag reflex, you might have trouble swallowing pills, visiting the dentist, or having your sore throat cultured for strep.
The gag reflex may be triggered partly by your natural physiological response and partly by your state of mind. Your mental state may play a larger role, particularly if you've had some unpleasant experience in the past or if you keep on imagining something unpleasant imagining.
You can "tame" your gag reflex through hypnosis, by learning how to relax, imagine positive outcomes, and by gradually disengaging your gag reflex.
Stop Gagging Reflex recordings will help you to stop the gagging reflex whether it's associated with dental work or with any other area in your life. They are designed to help you get rid of anxiety as well as to relax the muscles in your mouth and your throat.
Stop Gagging Reflex Deep Trance Now Hypnosis Programs
» Hypnosis Newsletter and Free Downloads
If you want CDs, click on "add to cart" button.
If you want Instant mp3 Downloads,
click on the blue Instant Download link.