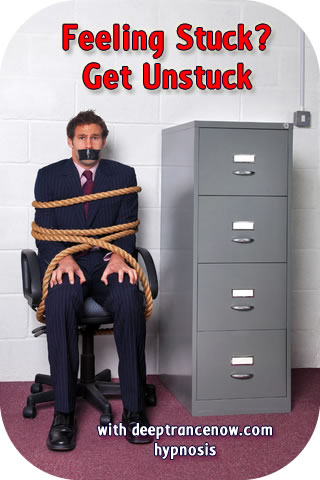 Sometimes we face situations where nothing we can possibly think or do seems to have any effect on helping us get out of the situation we feel hopelessly stuck in.
This happens even to people who have experienced great success in many areas of their lives and who were so very wise and smart, who learned so many different techniques for helping themselves and others, yet the time comes when their conscious resources hit the seemingly impenetrable wall.
Sometimes we forget about the learnings we have acquired and the resources we have. Sometimes, every option we may think of seems to be one worse than the other. Sometimes it seems like we have no options left. And sometimes we even reach the point where we don't really know any more what we want. This is particularly the case after we have learned how to get what we wanted, only to discover that what we thought would make us feel better, didn't quite turn out that way, so any choice we can possibly think of consciously, seems undesirable.
It may be that we had smooth sailing, and everything seemed to work out just wonderfully until something happened and all that used to make perfect sense, doesn't make any sense at all any more. What used to be very meaningful to us, lost its meaning and we have found nothing else to replace it. Our world collapsed and we found ourselves feeling lost and stuck.
Perhaps it feels as if someone has pulled the carpet under your feet and you find yourself floating in space, floating in a world in which you're no longer sure even of your identity - the roles you have played in life may have either dramatically changed or lost meaning to you.
The things appear worse than they really are and it's a perfect time to stop struggling and trying to figure the way out using your conscious mind (you've already tried that and it didn't work) and just surrender to your unconscious resources - after all, when we get into this humble state in which we readily admit our complete ignorance, we are ready to fully open to that all-wise, all-knowing, all-powerful part of us that we have entirely forgotten about and allow it to re-arrange our inner and outer world according to its own wisdom.
Getting Unstuck Deep Trance Now CDs will help you to access the resources from your deeper, all-knowing mind and bring them into your conscious awareness, helping you to overcome the problems that are keeping you stuck in a challenging situation that seems to have no way out. There is always a solution to every problem. Sometimes it is just a matter of changing your perception.
Feeling Stuck? Get Unstuck
Deep Trance Now Hypnosis CDs and mp3 downloads
» Hypnosis Newsletter and Free Downloads
If you want CDs, click on "add to cart" button.
If you want Instant mp3 Downloads,
click on the blue Instant Download link.

Get Unstuck
Hypnosis
1 CD - $24.95
For INSTANT DOWNLOAD click here
Get Unstuck
Hypnosis with Embedded Subliminal Track
1 CD - $29.95
Get Unstuck
Hypnosis with Embedded Supraliminal Track
1 CD - $34.95
Get Unstuck
Subliminal with Audible Intro Suggestions
1 CD - $14.95
For INSTANT DOWNLOAD click here
Get Unstuck
Daytime Silent Subliminal
1 CD - $14.95
Get Unstuck
Nighttime Silent Subliminal Sleep Programming
1 CD - $14.95
For INSTANT DOWNLOAD click here
Get Unstuck
Supraliminal with Audible Intro Suggestions
1 CD - $19.95
For INSTANT DOWNLOAD click here
Get Unstuck
Daytime Silent Supraliminal
1 CD - $19.95
Get Unstuck
Nighttime Silent Supraliminal Sleep Programming
1 CD - $19.95
For INSTANT DOWNLOAD click here
Get Unstuck
Empowering Affirmations
1 CD - $17.95
Get Unstuck
Empowering Affirmations with Embedded Subliminal Track
1 CD - $22.95
Get Unstuck
Empowering Affirmations with Embedded Subliminal and Supraliminal Tracks
1 CD - $27.95
For INSTANT DOWNLOAD click here
Get Unstuck
Supraliminal Plus
1 CD - $24.95
For INSTANT DOWNLOAD click here
Get Unstuck
Hypnosis + Subliminal
2 CDs - $29.95
Get Unstuck
Hypnosis + Supraliminal
2 CDs - $34.95
Get Unstuck
Hypnosis + Supraliminal Plus
2 CDs - $39.95
Get Unstuck
Hypnosis + Subliminal + Supraliminal Plus
3 CDs - $49.95
Get Unstuck
Hypnosis + Supraliminal + Supraliminal Plus
3 CDs - $54.95
Get Unstuck
Hypnosis + Subliminal + Supraliminal + Supraliminal Plus
4 CDs - $64.95
Get Unstuck
Hypnosis + Empowering Affirmations + Subliminal + Supraliminal + Supraliminal Plus
5 CDs - $79.95