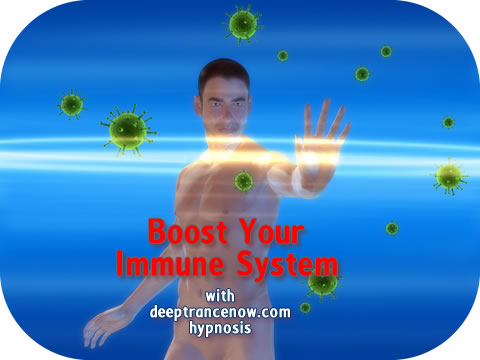 This set of CDs is designed to help you to boost your immune system. Weak immune system can leave you vulnerable to numerous health problems. Strong immune system will keep you healthy, happy and energized.
Boost Your Immune System
Deep Trance Now Hypnosis CDs and mp3 downloads
» Hypnosis Newsletter and Free Downloads
If you want CDs, click on "add to cart" button.
If you want Instant mp3 Downloads,
click on the blue Instant Download link.

Boost Your Immune System
Hypnosis
1 CD - $24.95
Boost Your Immune System
Hypnosis with Embedded Subliminal Track
1 CD - $29.95
Boost Your Immune System
Hypnosis with Embedded Supraliminal Track
1 CD - $34.95
Boost Your Immune System
Subliminal with Audible Intro Suggestions
1 CD - $14.95
For INSTANT DOWNLOAD click here
Boost Your Immune System
Daytime Silent Subliminal
1 CD - $14.95
For INSTANT DOWNLOAD click here
Boost Your Immune System
Nighttime Silent Subliminal Sleep Programming
1 CD - $14.95
For INSTANT DOWNLOAD click here
Boost Your Immune System
Supraliminal with Audible Intro Suggestions
1 CD - $19.95
For INSTANT DOWNLOAD click here
Boost Your Immune System
Daytime Silent Supraliminal
1 CD - $19.95
Boost Your Immune System
Nighttime Silent Supraliminal Sleep Programming
1 CD - $19.95
For INSTANT DOWNLOAD click here
Boost Your Immune System
Empowering Affirmations
1 CD - $17.95
Boost Your Immune System
Empowering Affirmations with Embedded Subliminal Track
1 CD - $22.95
Boost Your Immune System
Empowering Affirmations with Embedded Subliminal and Supraliminal Tracks
1 CD - $27.95
For INSTANT DOWNLOAD click here
Boost Your Immune System
Supraliminal Plus
1 CD - $24.95
For INSTANT DOWNLOAD click here
Boost Your Immune System
Hypnosis + Subliminal
2 CDs - $29.95
Boost Your Immune System
Hypnosis + Supraliminal
2 CDs - $34.95
Boost Your Immune System
Hypnosis + Supraliminal Plus
2 CDs - $39.95
Boost Your Immune System
Hypnosis + Subliminal + Supraliminal Plus
3 CDs - $49.95
Boost Your Immune System
Hypnosis + Supraliminal + Supraliminal Plus
3 CDs - $54.95
Boost Your Immune System
Hypnosis + Subliminal + Supraliminal + Supraliminal Plus
4 CDs - $64.95
Boost Your Immune System
Hypnosis + Empowering Affirmations + Subliminal + Supraliminal + Supraliminal Plus
5 CDs - $79.95