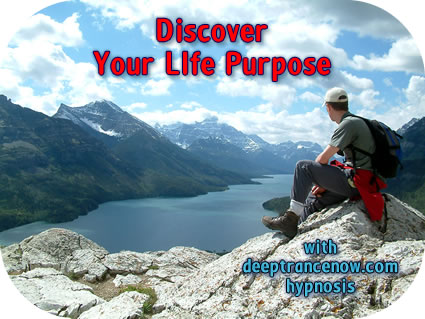 Each one of us has a life purpose. Each one of us is here on a mission. Each one of us has a grand destiny, if we but choose to embrace it. Sometimes we get intuitive flashes of this grand destiny and it seems too good to be true and too great for a single human being to accomplish. Yet, we were never meant to accomplish it with our own limited knowledge and resources, but rather by connecting with Infinite Loving Power and Wisdom within us, with our Greater Self which knows of no obstacles.
Each one of us fits in this grand scheme of life like pieces of a puzzle. Your specific wonderful life-path is already within you, within your heart. It is challenging, it is beautiful, it is meaningful and it is entirely up to you whether you choose to follow it and actualize it, or you'd rather settle for a mundane life.
Your grand purpose in life is not only intended to help you live wonderfully fulfilling life, but also to make you consciously aware of your Greater Self, so that you can bring it into conscious expression in your daily life.
Discovering your particular life purpose will help you to have a "unified goal", which will act as an umbrella, so to speak, for all of your minor goals. This, in turn, will eliminate any inner conflicts between different desires, different urges that may be pulling you in different directions, because you will always know what is the right thing for you to do. You can then compare each one of your minor goals, to this grand goal and purpose and simply notice which are in harmony with it and which are not, which are bringing you closer to expressing it in your daily life, and which are taking you further away from your chosen path.
The purpose of Discover Your Life Purpose recordings is to help you remove inner obstacles, so that you can become fully aware of your greatest destiny, so that this knowledge can emerge from the deepest depths of your own being.
Discover Your Life's Purpose
Deep Trance Now Hypnosis CDs and mp3 downloads
» Hypnosis Newsletter and Free Downloads
If you want CDs, click on "add to cart" button.
If you want Instant mp3 Downloads,
click on the blue Instant Download link.

Discover Your Life Purpose
Hypnosis
1 CD - $24.95
For INSTANT DOWNLOAD click here
Discover Your Life Purpose
Hypnosis with Embedded Subliminal Track
1 CD - $29.95
Discover Your Life Purpose
Hypnosis with Embedded Supraliminal Track
1 CD - $34.95
Discover Your Life Purpose
Subliminal with Audible Intro Suggestions
1 CD - $14.95
For INSTANT DOWNLOAD click here
Discover Your Life Purpose
Daytime Silent Subliminal
1 CD - $14.95
For INSTANT DOWNLOAD click here
Discover Your Life Purpose
Nighttime Silent Subliminal Sleep Programming
1 CD - $14.95
For INSTANT DOWNLOAD click here
Discover Your Life Purpose
Supraliminal with Audible Intro Suggestions
1 CD - $19.95
For INSTANT DOWNLOAD click here
Discover Your Life Purpose
Daytime Silent Supraliminal
1 CD - $19.95
For INSTANT DOWNLOAD click here
Discover Your Life Purpose
Nighttime Silent Supraliminal Sleep Programming
1 CD - $19.95
For INSTANT DOWNLOAD click here
Discover Your Life Purpose
Empowering Affirmations
1 CD - $17.95
Discover Your Life Purpose
Empowering Affirmations with Embedded Subliminal Track
1 CD - $22.95
Discover Your Life Purpose
Empowering Affirmations with Embedded Subliminal and Supraliminal Tracks
1 CD - $27.95
For INSTANT DOWNLOAD click here
Discover Your Life Purpose
Supraliminal Plus
1 CD - $24.95
For INSTANT DOWNLOAD click here
Sanskrit Mantras for Divine Knowledge
1 CD - $24.95
Discover Your Life Purpose
Hypnosis + Subliminal
2 CDs - $29.95
For INSTANT DOWNLOAD click here
Discover Your Life Purpose
Hypnosis + Supraliminal
2 CDs - $34.95
For INSTANT DOWNLOAD click here
Discover Your Life Purpose
Hypnosis + Supraliminal Plus
2 CDs - $39.95
For INSTANT DOWNLOAD click here
Discover Your Life Purpose
Hypnosis + Subliminal + Supraliminal Plus
3 CDs - $49.95
For INSTANT DOWNLOAD click here
Discover Your Life Purpose
Hypnosis + Supraliminal + Supraliminal Plus
3 CDs - $54.95
For INSTANT DOWNLOAD click here
Discover Your Life Purpose
Hypnosis + Subliminal + Supraliminal + Supraliminal Plus
4 CDs - $64.95
Discover Your Life Purpose
Hypnosis + Empowering Affirmations + Subliminal + Supraliminal + Supraliminal Plus
5 CDs - $79.95
Discover Your Life Purpose
Hypnosis + Empowering Affirmations + Subliminal + Supraliminal + Supraliminal Plus + Sanskrit Mantras for Divine Knowledge
6 CDs - $89.95