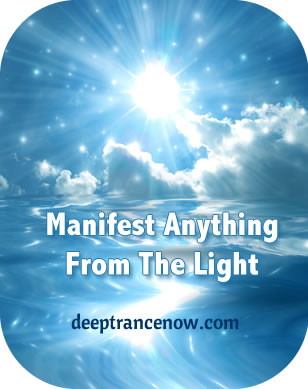 "God is Light." - 1 John 1:5
Light contains everything within itself. By aligning and identifying yourself with the Light, you are opening yourself to manifest from the highest vibratory level. The recordings on this page will be appropriate for you if you have been meditating on the Light and if you desire to practice living from the Light, as a being of Light, expressing directly from the Light.
Because Light already contains everything within itself and you as a being of Light contain everything within yourself, manifestation on this level is not based on attracting anything, but rather on expressing an aspect you desire to experience. Light is the Source out of which everything is created.
The Law of Attraction is based on the premise that you are separate from that which you desire to experience and thus you need to attract it. Manifesting from the Light is based on the premise that you already are, and thus have, everything.
These recordings are based on the principle of non-duality, advaita teachings, on A Course in Miracles and my own experiences of the Spiritual Light. Working with A Course in Miracles or similar meditations rooted in non-duality may help you to get the most out of these recordings. Or, you may want to begin with Illumination to help you to experience the Light.
"You are all children of light." - 1 Thessalonians 5:5
Manifest Anything From The Light
Deep Trance Now Hypnosis CDs and mp3 downloads
» Hypnosis Newsletter and Free Downloads
If you want CDs, click on "add to cart" button.
If you want Instant mp3 Downloads,
click on the blue Instant Download link.