All Deep Trance Now CDs and mp3s come with their own music. However, if you would prefer to have different background music on your recording, you can order customized background music.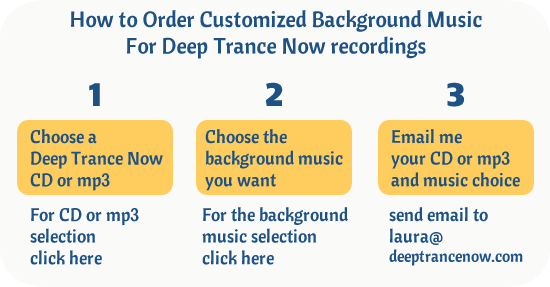 Steps to order Deep Trance Now Customized Background Music:
1. Order a Deep Trance Now CD or mp3 from the selection on the product pages. You can also order background music for a recording you have purchased earlier.
2. Choose the background music from the selections listed on the pages below.
3. Email me at laura@deeptrancenow.com to let me know your choices.
About Background Music Customization
You can use customized background music for Deep Trance Now affirmations, subliminal, supraliminal, and supraliminal plus recordings. You can learn more about different types of Deep Trance Now recordings for mind programming here.
Background Music to be used with
Deep Trance Now recordings
Click on titles below to listen to music selections from that genre of music: