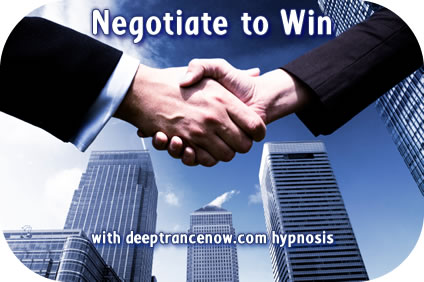 You negotiate in some way with someone every day of your life, and sometimes you get what you want, other times you feel you could do much better if you had better negotiation skills, if you knew how to talk to people in a way that they would want to give you what you want.
The set of CDs and mp3s on this page is designed to help you to become a better negoator, knowing how to talk to people in order to get them to become greatly interested in what you want, willing to do what you'd like them to do, for mutual benefit.
Become A Successful Negotiator
Deep Trance Now Hypnosis Programs
» Click here to learn more about Different Types of Recordings
» Subscribe to Deep Trance Now Hypnosis Newsletter and listen to Free Downloads
» Click here for information about Mail Order, Shipping or ordering MP3 Downloads
If you want CDs, click on "add to cart" button.
If you want Instant mp3 Downloads,
click on the blue Instant Download link.

Become A Successful Negotiator
Hypnosis
1 CD - $24.95
Become A Successful Negotiator
Hypnosis with Embedded Subliminal Track
1 CD - $29.95
Become A Successful Negotiator
Hypnosis with Embedded Supraliminal Track
1 CD - $34.95
Become A Successful Negotiator
Subliminal with Audible Intro Suggestions
1 CD - $14.95
Become A Successful Negotiator
Daytime Silent Subliminal
1 CD - $14.95
Become A Successful Negotiator
Nighttime Silent Subliminal Sleep Programming
1 CD - $14.95
For INSTANT DOWNLOAD click here
Become A Successful Negotiator
Supraliminal with Audible Intro Suggestions
1 CD - $19.95
For INSTANT DOWNLOAD click here
Become A Successful Negotiator
Daytime Silent Supraliminal
1 CD - $19.95
Become A Successful Negotiator
Nighttime Silent Supraliminal Sleep Programming
1 CD - $19.95
For INSTANT DOWNLOAD click here
Become A Successful Negotiator
Empowering Affirmations
1 CD - $17.95
Become A Successful Negotiator
Empowering Affirmations with Embedded Subliminal Track
1 CD - $22.95
Become A Successful Negotiator
Empowering Affirmations with Embedded Subliminal and Supraliminal Tracks
1 CD - $27.95
Become A Successful Negotiator
Supraliminal Plus
1 CD - $24.95
For INSTANT DOWNLOAD click here
Become A Successful Negotiator
Hypnosis + Subliminal
2 CDs - $29.95
Become A Successful Negotiator
Hypnosis + Supraliminal
2 CDs - $34.95
Become A Successful Negotiator
Hypnosis + Supraliminal Plus
2 CDs - $39.95
Become A Successful Negotiator
Hypnosis + Subliminal + Supraliminal Plus
3 CDs - $49.95
Become A Successful Negotiator
Hypnosis + Supraliminal + Supraliminal Plus
3 CDs - $54.95
Become A Successful Negotiator
Hypnosis + Subliminal + Supraliminal + Supraliminal Plus
4 CDs - $64.95
Become A Successful Negotiator
Hypnosis + Empowering Affirmations + Subliminal + Supraliminal + Supraliminal Plus
5 CDs - $79.95