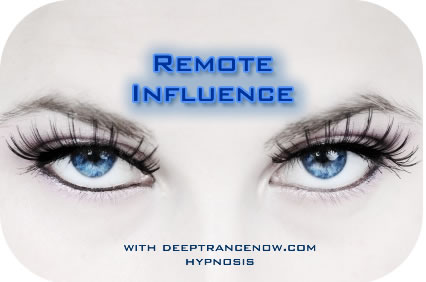 Remote Influence is a label given to our ability to influence people and events using only our minds (and the energy we generate). The person we are influencing may be sitting next to us or may be living on another continent - it makes no difference, because in the realm of the mind, time and space don't exist - only here and now. You don't even have to have much information about the person you desire to influence - as long as you have good enough representation of that person in your mind to tune into that person.
Subconscious mind works well with symbolic language and instead of the actual person you may also choose any "symbol" to represent the one you desire to influence. Besides people, you can influence animals, plants, inanimate objects, circumstances, etc. You can look upon all of them as consisting of clusters of energy - each one having its own vibration (an essence, or a signature, if you prefer).
The truth is that all of us influence others all the time with our thoughts and emotions - intentionally or unintentionally. It is impossible not to influence others in some way. The degree of influence we are able to exert depends on the amount of energy we manage to generate and project and on whether the influence we desire to exert is in accord or in conflict with the energy of the receiver.
This works in pretty much the same way as impressing ideas upon your own subconscious mind. If the beliefs which are already in your subconscious support the new idea you desire to impress, it will take effect easily. If the idea you are attempting to impress upon another person's mind is in accord with that person's beliefs, influencing that person will be a piece of a cake.
On the other hand, when two ideas are in conflict, the one that has more energy associated with it, will win. This, again, works exactly the same whether the conflicting ideas exist in your own subconscious mind, or whether the idea you are attempting to plant into another person's mind is in conflict with the beliefs and desires that are already part of that person's subconscious.

That being said, the vast majority of people are actually wide open to outside influences (people who are constantly looking for other people's approval and validation, even more so) and are therefore rather easy to influence with remote techniques. On the other hand, there are people who are centered and self-aware, who live consciously and are not open to any outer manipulation. Attempting to influence them in a way that is not agreeable with what they choose to experience will simply bounce off them - they may actually laugh it off just like an adult person may see through and laugh at a manipulations of a small child. There are also those who have mastered enough "energy games" who may choose either to absorb and transmute the energy that was sent their way, if it disagrees with their intentions, or to bounce it back.
Given the fact that yes, you can influence vast majority of people - as your power and influence grows, your sense of responsibility should also. Lest power get into your head (with mastery of remote influence it does happen all too easily), you need to be able to discern when it is appropriate to exert such influence and in what way, and when you should better leave things alone. No need to begin devising plans for conquering the world - use your newly acquired abilities to make this world a little bit better and to make other people a little bit happier.

Remote Influence
Deep Trance Now Hypnosis CDs and mp3 downloads
The recordings on this page are self-improvement recordings intended for mentally healthy people who are able and willing to take responsibility for their lives. People who were treated for mental health problems or are suffering from mental health issues should consult with their health care provider before using these recordings.
» Hypnosis Newsletter and Free Downloads
If you want CDs, click on "add to cart" button.
If you want Instant mp3 Downloads,
click on the blue Instant Download link.