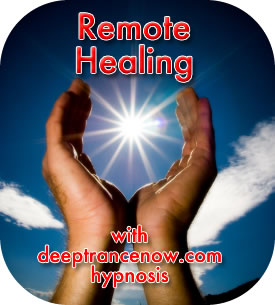 Remote or distance healing is a way of stimulating the healing energy in another person by working with energy and consciousness. Remote or distance healing is a form of remote Healing , since you are in effect influencing another person, and in one way or another, we are all influencing each other on some level all the time, sometimes tangibly and other times through the web of life that unites us all at the level of energy and consciousness. The difference between the Healing we exert on each other throughout our daily lives, without giving it much thought and through hypnosis is that while in hypnosis, we are totally focused on what we are doing and so is the energy we put into this inner work.
During remote healing it doesn't matter whether the person is sitting next to you or is on the other side of the world, because metaphysically speaking, the entire world is in your mind, including the person you desire to help. While some would say that during remote healing we are "sending" the energy to another, since in consciousness there is no time and space, and we are working with consciousness when we are using hypnosis, it could be said that we are not really "sending" anything, but that we are stimulating a change through awareness - much like when we turn on a light, we can see. And conscious awareness does bring on the "Light" - the Light that contains all the information, the Light that IS the information, the Light that contains the solution the any problem and brings about healing, or wholeness, because within the Light there is no inharmony, there is no separation.
Remote Healing
Deep Trance Now Hypnosis CDs and mp3 downloads
» Hypnosis Newsletter and Free Downloads
Remote Healing Affirmations with Supraliminal Track Demo
If you want CDs, click on "add to cart" button.
If you want Instant mp3 Downloads,
click on the blue Instant Download link.