Scoliosis is a condition in which the spine is curved from side to side, resembling a letter "S" or a question mark "?".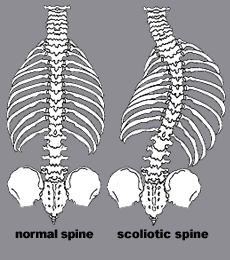 If the condition is severe, with thoracic curve and rib rotation greater than 70 degrees, it may affect breathing and heart function.
Scoliosis may be caused due to bone abnormality at birth, due to injury or illness or have no medically-identifiable cause. Regardless of the cause, you can use the power of the mind to help straighten your spine.
Spine Straightening recordings are designed to help you to correct the spine curvature. These recordings are not intended to replace medical treatment.
Several people who used these recordings have reported improvements within few months of listening to self-hypnosis recordings.
Hypnosis recordings guide you through relaxation and guided imagery for spine straightening. For best results, start with hypnosis recording.
Affirmations, subliminal, supraliminal and supraliminal plus recordings reinforce the guided imagery with positive suggestions.
Straight Spine - Scoliosis Correction
Deep Trance Now Hypnosis CDs and mp3 downloads
» Click here to learn more about Different Types of Recordings
» Subscribe to Deep Trance Now Hypnosis Newsletter and listen to Free Downloads
» Click here for information about Mail Order, Shipping or ordering MP3 Downloads
If you want CDs, click on "add to cart" button.
If you want Instant mp3 Downloads,
click on the blue Instant Download link.

Straight Spine - Scoliosis Correction
Hypnosis
1 CD - $24.95
For INSTANT DOWNLOAD click here
Straight Spine - Scoliosis Correction
Hypnosis with Embedded Subliminal Track
1 CD - $29.95
Straight Spine - Scoliosis Correction
Hypnosis with Embedded Supraliminal Track
1 CD - $34.95
For INSTANT DOWNLOAD click here
Straight Spine - Scoliosis Correction
Subliminal with Audible Intro Suggestions
1 CD - $14.95
For INSTANT DOWNLOAD click here
Straight Spine - Scoliosis Correction
Daytime Silent Subliminal
1 CD - $14.95
Straight Spine - Scoliosis Correction
Nighttime Silent Subliminal Sleep Programming
1 CD - $14.95
For INSTANT DOWNLOAD click here
Straight Spine - Scoliosis Correction
Supraliminal with Audible Intro Suggestions
1 CD - $19.95
For INSTANT DOWNLOAD click here
Straight Spine - Scoliosis Correction
Daytime Silent Supraliminal
1 CD - $19.95
Straight Spine - Scoliosis Correction
Nighttime Silent Supraliminal Sleep Programming
1 CD - $19.95
For INSTANT DOWNLOAD click here
Straight Spine - Scoliosis Correction
Empowering Affirmations
1 CD - $17.95
Straight Spine - Scoliosis Correction
Empowering Affirmations with Embedded Subliminal Track
1 CD - $22.95
Straight Spine - Scoliosis Correction
Empowering Affirmations with Embedded Subliminal and Supraliminal Tracks
1 CD - $27.95
For INSTANT DOWNLOAD click here
Straight Spine - Scoliosis Correction
Supraliminal Plus
1 CD - $24.95
For INSTANT DOWNLOAD click here
Sanskrit Mantras for Straight Spine - Scoliosis Correction
1 CD - $24.95
Straight Spine - Scoliosis Correction
Hypnosis + Subliminal
2 CDs - $29.95
For INSTANT DOWNLOAD click here
Straight Spine - Scoliosis Correction
Hypnosis + Supraliminal
2 CDs - $34.95
For INSTANT DOWNLOAD click here
Straight Spine - Scoliosis Correction
Hypnosis + Supraliminal Plus
2 CDs - $39.95
For INSTANT DOWNLOAD click here
Straight Spine - Scoliosis Correction
Hypnosis + Subliminal + Supraliminal Plus
3 CDs - $49.95
For INSTANT DOWNLOAD click here
Straight Spine - Scoliosis Correction
Hypnosis + Supraliminal + Supraliminal Plus
3 CDs - $54.95
For INSTANT DOWNLOAD click here
Straight Spine - Scoliosis Correction
Hypnosis + Subliminal + Supraliminal + Supraliminal Plus
4 CDs - $64.95
Straight Spine - Scoliosis Correction
Hypnosis + Empowering Affirmations + Subliminal + Supraliminal + Supraliminal Plus
5 CDs - $79.95
Straight Spine - Scoliosis Correction
Hypnosis + Empowering Affirmations + Subliminal + Supraliminal + Supraliminal Plus + Sanskrit Mantras
6 CDs - $89.95