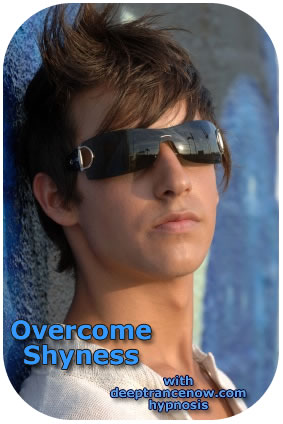 Some people are by nature more outgoing, some are more introverted. Some people couldn't care less what others think of them, while some constantly wonder "What will other people think of me if I do this or that?".
Most people may feel shy to a certain extent when they find themselves in an unfamiliar situation, and since younger people had less exposure to a variety of social situations, they may feel more shy, and this shyness may dissolve as they mature and become more adept in different social environments..
Shyness becomes a problem when it hinders your enjoyment of life - when you'd really like to befriend someone, but your shyness is preventing you, or you'd like to be part of a particular groups of people, but you don't know how to proceed.
One of the painful consequences of shyness is loneliness, which may lead to depression. If you don't talk to anyone, if you don't have the guts to approach anyone, then meeting new friends and enjoying company of other people becomes very challenging.
Challenges That Shy People Face
Shy people tend to be excessively self-conscious, and preoccupied with what others think of them. While everyone else is saying "hi" and mingling, a shy person may be contemplating what to do to make a good impression.
A shy person may be thinking, "If I stand at the far end of the room and pretend to be examining the painting on the wall, I'll look like I'm interested in art but it is unlikely that I'll talk to anyone, unless someone approaches me and starts a conversation".
A shy person may feel very uncomfortable, even miserable in a social setting because he is not sure what to say or do. It may seem that everyone is staring at him while his pulse is speeding up, his heart is pounding and butterflies are swarming in his stomach.
Due to this great inner distress, a shy person may feel mentally paralyzed in the presence of other people, and unable to think clearly. He may also appear snobbish to others, even though he is only nervous.
Shy person may live trapped between two fears: being invisible and insignificant to others and beings visible but worthless.
How can Deep Trance Now hypnosis CDs help you?
Deep Trance Now Hypnosis CD for Overcoming Shyness guides you through several techniques that will help you to feel comfortable in the presence of other people and to be yourself. Through repeated listening these new patterns of thinking and acting will become wired into your neurology and will become an automatic resourceful response when you find yourself in different social situations.
Subliminal, supraliminal and supraliminal plus CDs contain only direct suggestions and while these may work very well on their own for many people, for best results, I recommend that you also work with hypnosis recordings, mainly because it will help to condition your mind, and neurology with resources that will come in very handy when you actively mingle with people and expand your social influence both personally and professionally.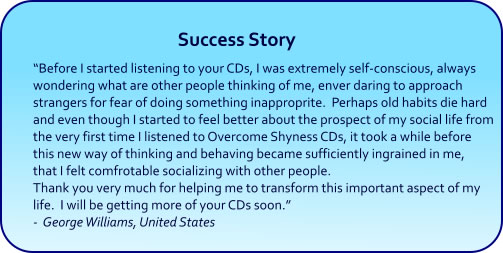 Overcome Shyness
Deep Trance Now Hypnosis CDs and mp3s
» Hypnosis Newsletter and Free Downloads
If you want CDs, click on "add to cart" button.
If you want Instant mp3 Downloads,
click on the blue Instant Download link.