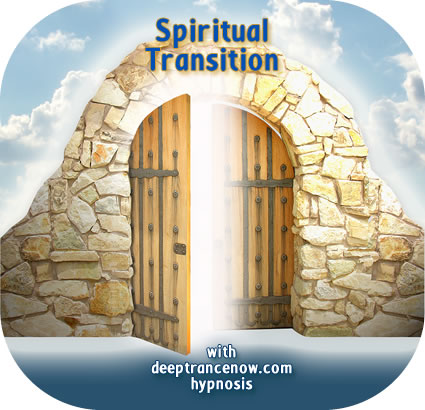 It is normal for anyone to experience some fear and anxiety when faced with unknown, so the purpose of the recordings on this page is to prepare you mentally and emotionally for the spiritual transition that will eventually come.
There are two doors leading to the spiritual world: the" front door" through the process called ascension by spiritualizing the physical body and taking it with you, and the "back door" by leaving the physical body.
Some spiritual writings point out that eventually even the death will be overcome - the word "death" implying leaving the physical body - and while there are rare individuals, spiritual adepts, who through intense spiritual practice have accomplished the process, the vast majority of humanity is still leaving through the back door, and the recordings on this page are designed to help such people to make peaceful and comfortable transition.
More adventurous souls may feel more comfortable dealing with risks and getting headlong into exploration of unfamiliar terrains, while the rest feel more at ease if they know what they may be getting into, what to expect, and how to best prepare for the most comfortable journey.
If you've travelled to a foreign land, where people speak foreign language and where they may have customs and beliefs that are very different than yours, you may have experienced a cultural shock. Likewise, the transition into the spirit world may create a form of cultural shock as you find yourself in a situation you weren't quite prepared for.
Some people have had all kinds of experiences throughout their lives that make them comfortable with the idea of moving to the spirit world. In times of trouble they may have asked for help from the invisible or higher power and they were helped in seemingly miraculous ways and they feel that they have many friends in the invisible world, perhaps even more genuine friends that in the material world. Some people may have had near-death experiences and some may have experienced the other side through meditation or self-hypnosis.
Other people may not feel so comfortable because they have not had any convincing experiences or because they were told all kinds of scary stories that make moving on unpalatable, if not horrific or at least boring.
The recordings on this page are suitable both for people who have fear of death and dying, and for those who are comfortable with moving into the spirit world. The more you walk in this world with the awareness of both the material and the spirit world, remembering the experiences from both worlds, the more comfortable will you be not only transitioning into the other world, but living in this world also.
Spiritual Transition
Deep Trance Now Hypnosis CDs and mp3 downloads
» Hypnosis Newsletter and Free Downloads
If you want CDs, click on "add to cart" button.
If you want Instant mp3 Downloads,
click on the blue Instant Download link.

Spiritual Transition
Hypnosis
1 CD - $24.95
Spiritual Transition
Hypnosis with Embedded Subliminal Track
1 CD - $29.95
Spiritual Transition
Hypnosis with Embedded Supraliminal Track
1 CD - $34.95
Spiritual Transition
Subliminal with Audible Intro Suggestions
1 CD - $14.95
For INSTANT DOWNLOAD click here
Spiritual Transition
Daytime Silent Subliminal
1 CD - $14.95
For INSTANT DOWNLOAD click here
Spiritual Transition
Nighttime Silent Subliminal Sleep Programming
1 CD - $14.95
For INSTANT DOWNLOAD click here
Spiritual Transition
Supraliminal with Audible Intro Suggestions
1 CD - $19.95
For INSTANT DOWNLOAD click here
Spiritual Transition
Daytime Silent Supraliminal
1 CD - $19.95
For INSTANT DOWNLOAD click here
Spiritual Transition
Nighttime Silent Supraliminal Sleep Programming
1 CD - $19.95
For INSTANT DOWNLOAD click here
Spiritual Transition
Empowering Affirmations
1 CD - $17.95
Spiritual Transition
Empowering Affirmations with Embedded Subliminal Track
1 CD - $22.95
Spiritual Transition
Empowering Affirmations with Embedded Subliminal and Supraliminal Tracks
1 CD - $27.95
Spiritual Transition
Supraliminal Plus
1 CD - $24.95
For INSTANT DOWNLOAD click here
Spiritual Transition
Hypnosis + Subliminal
2 CDs - $29.95
Spiritual Transition
Hypnosis + Supraliminal
2 CDs - $34.95
Spiritual Transition
Hypnosis + Supraliminal Plus
2 CDs - $39.95
Spiritual Transition
Hypnosis + Subliminal + Supraliminal Plus
3 CDs - $49.95
Spiritual Transition
Hypnosis + Supraliminal + Supraliminal Plus
3 CDs - $54.95
Spiritual Transition
Hypnosis + Subliminal + Supraliminal + Supraliminal Plus
4 CDs - $64.95
Spiritual Transition
Hypnosis + Empowering Affirmations + Subliminal + Supraliminal + Supraliminal Plus
5 CDs - $79.95