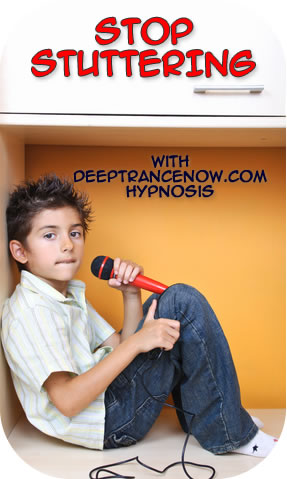 Did you know that many great orators - people who became famous for their speaking ability - used to stutter at some point in their lives? Then they decided to re-learn how to speak not only smoothly and with confidence, but also persuasively. They learned to weave such magic with their words that people just loved to listen to them speak.
You, too can not only re-learn how to speak smoothly and confidently, but you can develop an ability to express yourself with words so that people will delight in hearing what you have to say next. And you will utterly enjoy the freedom you have to express your opinion and to have an impact in your personal and professional life.
Stop Stuttering Deep Trance Now Hypnosis Programs
» Hypnosis Newsletter and Free Downloads
Stop Stuttering Hypnosis Demo
If you want CDs, click on "add to cart" button.
If you want Instant Downloads,
click on the blue Instant Download link.

Stop Stuttering
Hypnosis
1 CD - $24.95
For INSTANT DOWNLOAD click here
Stop Stuttering
Hypnosis with Embedded Subliminal Track
1 CD - $29.95
Stop Stuttering
Hypnosis with Embedded Supraliminal Track
1 CD - $34.95
For INSTANT DOWNLOAD click here
Stop Stuttering
Subliminal with Audible Intro Suggestions
1 CD - $14.95
For INSTANT DOWNLOAD click here
Stop Stuttering
Daytime Silent Subliminal
1 CD - $14.95
For INSTANT DOWNLOAD click here
Stop Stuttering
Nighttime Silent Subliminal Sleep Programming
1 CD - $14.95
For INSTANT DOWNLOAD click here
Stop Stuttering
Supraliminal with Audible Intro Suggestions
1 CD - $19.95
For INSTANT DOWNLOAD click here
Stop Stuttering
Daytime Silent Supraliminal
1 CD - $19.95
For INSTANT DOWNLOAD click here
Stop Stuttering
Nighttime Silent Supraliminal Sleep Programming
1 CD - $19.95
For INSTANT DOWNLOAD click here

Stop Stuttering
Empowering Affirmations
1 CD - $17.95
Stop Stuttering
Empowering Affirmations with Embedded Subliminal Track
1 CD - $22.95
Stop Stuttering
Empowering Affirmations with Embedded Subliminal and Supraliminal Tracks
1 CD - $27.95
For INSTANT DOWNLOAD click here
Stop Stuttering
Supraliminal Plus
1 CD - $24.95
For INSTANT DOWNLOAD click here
Stop Stuttering
Hypnosis + Subliminal
2 CDs - $29.95
Stop Stuttering
Hypnosis + Supraliminal
2 CDs - $34.95
Stop Stuttering
Hypnosis + Supraliminal Plus
2 CDs - $39.95
Stop Stuttering
Hypnosis + Subliminal + Supraliminal Plus
3 CDs - $49.95
Stop Stuttering
Hypnosis + Supraliminal + Supraliminal Plus
3 CDs - $54.95
Stop Stuttering
Hypnosis + Subliminal + Supraliminal + Supraliminal Plus
4 CDs - $64.95
Stop Stuttering
Hypnosis + Empowering Affirmations + Subliminal + Supraliminal + Supraliminal Plus
5 CDs - $79.95