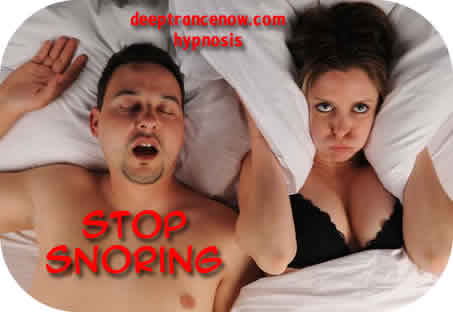 Don't Let Snoring Ruin Your Relationship
or a Good Night's Sleep
Just about everyone snores occasionally. Snoring is caused by a narrowing of air passageways, either due to sleep posture or due to the structure of the soft tissues in the throat. A narrow air passageway, as well as the position of the tongue,may prevent smooth breathing and create the sound of snoring.
People snore for different reasons. Some people may be snoring because they have narrower air passages. Some may snore because they are overweight - fatty tissue and poor muscle tone in the throat contribute to snoring. If you are overweight, you may benefit also from working with Weight Reduction program.
Stop Snoring Program is designed to help you stop snoring provided you don't have any physiological obstructions. It is designed to direct your unconscious to readjust your body and tongue position while you're sleeping so that you can breathe smoothly and stop or minimize your snoring.
Stop Snoring
Deep Trance Now Hypnosis CDs and mp3 downloads
» Hypnosis Newsletter and Free Downloads
If you want CDs, click on "add to cart" button.
If you want Instant mp3 Downloads,
click on the blue Instant Download link.