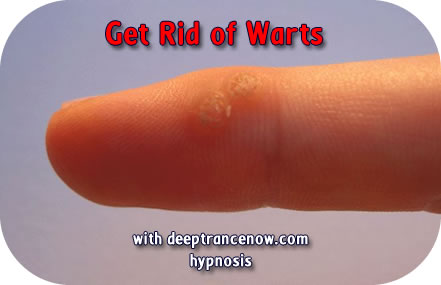 Hypnosis has for a long time being one of the most popular and most successful ways for getting rid of warts. Perhaps every culture has its own particular way of using self-hypnosis for getting rid of warts, though at first glance it may resemble more a superstitious belief - the fact it, it works.
In one European country, this method consists of looking up at the sky covered with stars and counting nine stars during night nights, at which point warts are suppose to vanish. From the perspective of hypnosis, this method helps the person to create a sense of belief and expectation, which engage the person's subconscious, or the intelligence of one's body, acts upon the belief and expectation and gets rid of the warts.
While such methods may work wonderfully with children who still believe in magic and don't ask how and why would that be possible - this hypnosis program uses more traditional hypnosis techniques as it is geared toward adults. However, if you are a grown up, with a well-developed creative imagination and enjoy living in the world of magic and miracles, then you may as well try the above method first.
In short, when using hypnosis, belief and expectation equal successful results, whatever creative method you may choose to use.

Get Rid of Warts
Deep Trance Now Hypnosis CDs and mp3 downloads
» Hypnosis Newsletter and Free Downloads
If you want CDs, click on "add to cart" button.
If you want Instant mp3 Downloads,
click on the blue Instant Download link.