» Win at Games of Chance Main Page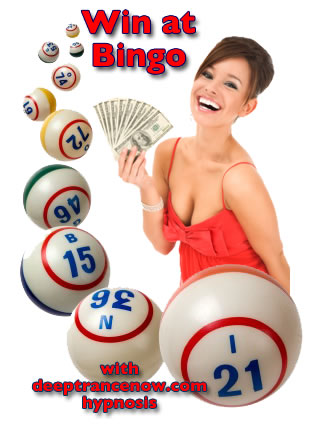 Bingo Halls are places which I dutifully attended on daily basis many years ago for the purpose of mind-over-matter training. The first few years I won absolutely nothing because that's exactly what I expected. Then, one day, while swimming and meditating, I remembered the principle of gratitude and that we should express gratitude for everything in our lives, and not only for those blessings that are already part of our lives, and which we took for granted, but also for those things which we'd like to experience - as if they were already ours. Out of curiosity, while I kept swimming, I began expressing gratitude for winning a specific game at Bingo that evening. When I showed up at Bingo that evening - I WON for the very first time and I won exactly the game for which I expressed gratitude in advance.
One day I needed exactly $200. I didn't now where else to get it, so I went to bingo. In the midst of the game, a friend of mine showed up. He was shocked to see me there knowing that I didn't have any money to throw away. He asked what am I doing there. I said I came to win $200. He burst out laughing, but a few numbers later - I yelled "BINGO!" as I just won exactly $200. I looked at my friend with a jubilant smile on my face, and said "See? Mind over matter."
Later on I decided to win the jackpot. It didn't happen instantly because the amount was out of my financial comfort zone for winning at games of chance. It took me one week of mind-programming to win the jackpot - $1,400.
If you've never won anything in your life, you, too, can change your mind and start winning. If you've been winning smaller amounts, you can expand your financial comfort zone and start winning more.
Win at Bingo hypnosis CD will help you to condition your mind and neurology to Win at Bingo , to get in tune with the vibration of winning and to effortlessly increase your luck, your chances at winning, and the winnings at bingo.
Win at Bingo subliminal, supraliminal, and supraliminal plus CDs contain only direct suggestions without guided imagery which is present on Win at Bingo hypnosis CD, and while Win at Bingo subliminal, supraliminal and supraliminal plus CDs can work for you all by themselves and they have worked for many people, for even better and faster results, I recommend that you also work with Win at Bingo hypnosis CD.
Win at Bingo
Deep Trance Now Hypnosis CDs and mp3 downloads
» Hypnosis Newsletter and Free Downloads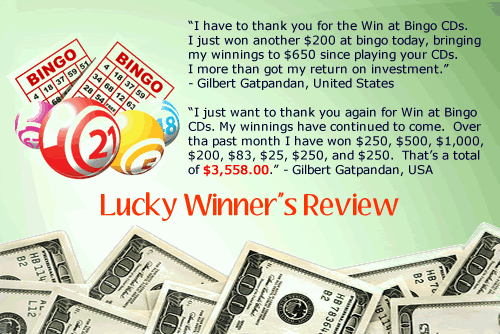 If you want CDs, click on "add to cart" button.
If you want Instant mp3 Downloads,
click on the blue Instant Download link.