Relax Into Stretch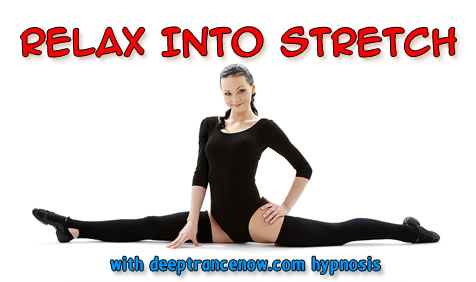 Relax Into Stretch Hypnosis CD is designed to help you thoroughly relax, instead of tense, when attempting to stretch more than you've ever been able to stretch before. You'll discover that the more deeply you are able to relax, the further you'll be able to stretch. Subliminal and supraliminal CDs contain suggestions for relaxing into stretch designed to be impressed directly upon your subconscious mind.
Relax Into Stretch
Deep Trance Now Hypnosis CDs and mp3 downloads
» Hypnosis Newsletter and Free Downloads
If you want CDs, click on "add to cart" button.
If you want Instant mp3 Downloads,
click on the blue Instant Download link.

Relax Into Stretch
Hypnosis
1 CD - $24.95
For INSTANT DOWNLOAD click here
Relax Into Stretch
Hypnosis with Embedded Subliminal Track
1 CD - $29.95
Relax Into Stretch
Hypnosis with Embedded Supraliminal Track
1 CD - $34.95
Relax Into Stretch
Subliminal with Audible Intro Suggestions
1 CD - $14.95
For INSTANT DOWNLOAD click here
Relax Into Stretch
Daytime Silent Subliminal
1 CD - $14.95
Relax Into Stretch
Nighttime Silent Subliminal Sleep Programming
1 CD - $14.95
For INSTANT DOWNLOAD click here
Relax Into Stretch
Supraliminal with Audible Intro Suggestions
1 CD - $19.95
For INSTANT DOWNLOAD click here
Relax Into Stretch
Daytime Silent Supraliminal
1 CD - $19.95
Relax Into Stretch
Nighttime Silent Supraliminal Sleep Programming
1 CD - $19.95
For INSTANT DOWNLOAD click here
Relax Into Stretch
Empowering Affirmations
1 CD - $17.95
Relax Into Stretch
Empowering Affirmations with Embedded Subliminal Track
1 CD - $22.95
Relax Into Stretch
Empowering Affirmations with Embedded Subliminal and Supraliminal Tracks
1 CD - $27.95
Relax Into Stretch
Supraliminal Plus
1 CD - $24.95
For INSTANT DOWNLOAD click here
Relax Into Stretch
Hypnosis + Subliminal
2 CDs - $29.95
For INSTANT DOWNLOAD click here
Relax Into Stretch
Hypnosis + Supraliminal
2 CDs - $34.95
For INSTANT DOWNLOAD click here
Relax Into Stretch
Hypnosis + Supraliminal Plus
2 CDs - $39.95
For INSTANT DOWNLOAD click here
Relax Into Stretch
Hypnosis + Subliminal + Supraliminal Plus
3 CDs - $49.95
For INSTANT DOWNLOAD click here
Relax Into Stretch
Hypnosis + Supraliminal + Supraliminal Plus
3 CDs - $54.95
For INSTANT DOWNLOAD click here
Relax Into Stretch
Hypnosis + Subliminal + Supraliminal + Supraliminal Plus
4 CDs - $64.95
Relax Into Stretch
Hypnosis + Empowering Affirmations + Subliminal + Supraliminal + Supraliminal Plus
5 CDs - $79.95